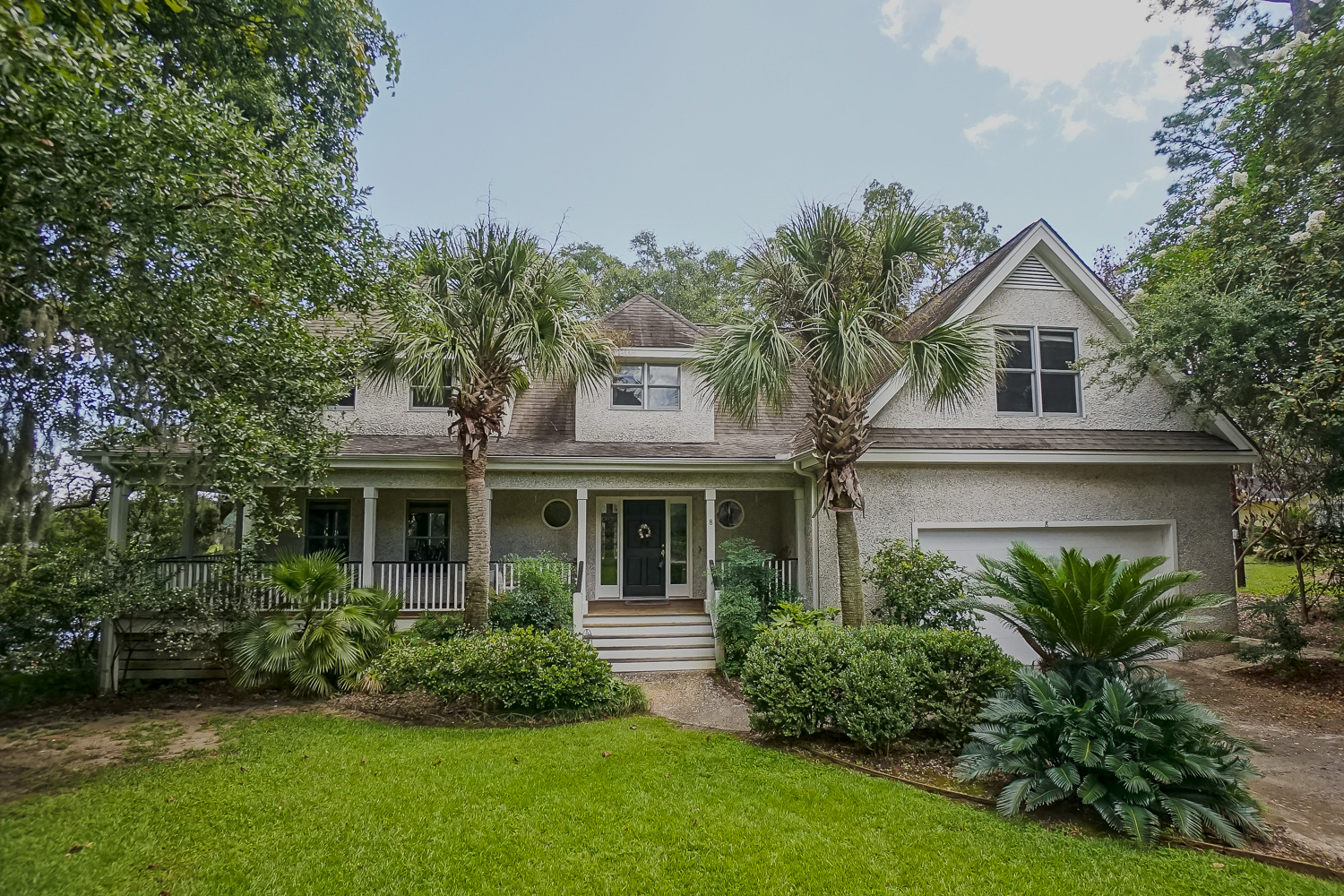 OUR PARADISE
We always wanted a place on the water; and when we moved to Beaufort, SC, we found the perfect spot, just two blocks off of Sam's Point Road on Little Lucy Creek. The spacious 4900 square-feet tabby-covered house on a circular drive has a private dock and expansive views of the creek, marsh, and land across the way protected by conservation easement. Every morning we can see the sunrise over the serene water and nature in all its glory. Majestic live oak trees draped in Spanish moss, native plants and trees provide privacy and screens the home and yard from the street and adjoining properties. The main part of the house was built onto a fishing camp so there is a screened-in porch right next to the water. We often spread newspapers on the table and eat blue crab that we have caught off of our pier or local oysters and shrimp. In fact, there are porches on every level, where we can watch the birds and animals passing by. A free-flowing waterfall accents the path to the pier. The magnificent view from the living room in the original part always makes my heart sing. Besides feeling that you are in a natural wonder, there is a fireplace with a mantle, a built-in desk, a filing cabinet, and shelves, a sink, and small refrigerator. A multi-purpose room with a large cedar closet, bath, and door leading to the patio connects the original part to the kitchen on the main floor.
On the second floor, we love the light, airy rooms with their great views, spacious closets, and storage. The Master Bedroom has a huge walk-in closet. In fact, there are three bedrooms, two baths, an office, and a sitting area. The front entryway opens to a two-story vaulted cathedral ceiling living room, a dining room with gas fireplace, built-in shelves, and doors that opens onto a porch, which provides another beautiful view to commune with nature. It also connects to the L-shaped casual eating area and built-in bar. The kitchen has a microwave, built-in oven, island, dishwasher, Jenn air stove, pantry, and a huge laundry room with washer, dryer, sink, more built-in cabinets and a way to the spacious enclosed two-car garage with more cabinets and a sink and an inside entrance to the basement.
The basement apartment has its own outside entrance and private lanai that leads to the pier. The large living area, bath, bedroom with two closets, storage area, and kitchen with a washer, dryer, sink, and refrigerator make it a perfect get-away for guests or family.
Also on the property is a small building where tools, gardening supplies, beach chairs, bicycles, etc. can be stored. The underground sprinkling system is an added bonus. Best of all, there is no HOA! It is a great home for large parties or intimate gatherings, family reunions, etc. Everyone from toddlers to great grandparents feels comfortable here. We really do love our Paradise Found. We go carrying cherished memories with us and we wish those who move in after us will find their own paradise in this enchanting home.
Lovingly submitted by
LTC Robert C. Proctor Jr. (retired U.S, Army) and Janelle Proctor