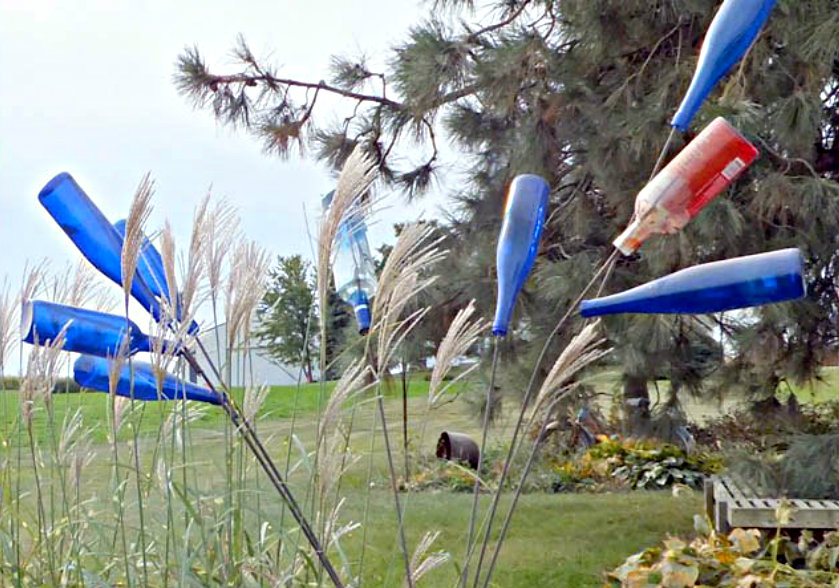 One of the many peculiarly interesting things you'll see decorating many homes here in Beaufort SC is the bottle tree.
Bottle trees were brought here in the 18th and 19th centuries by enslaved Africans and became a part of our local culture as the Gullah of our local sea islands has always held the belief in evil spirits walking among us.
There's much more to the bottle tree than just a bunch of blue bottles arranged in a strange formation on the tips of tree branches; and they are much more than just a garden decoration.
Legend says, when nightfall comes, the bottles trapped evil spirits in them and held them inside until the morning sun could destroy them. The use of blue bottles is said to attract spirits, and once they're inside, they cannot leave. When the night wind blows, and the bottle makes a humming or ringing sound, you'll know that means there is a spirit trapped inside.
In the 20th Century, this practice had spread throughout the country, primarily in Appalachia, and has become mostly a decorative idea. But, its roots are in the practice of placing bottles over tree branches which was deep-rooted in the legends of the Gullah culture. Bottles would even be tied to trees along main thoroughfares to help to capture any spirits which may be traveling.
You can still see them all over Beaufort SC and our beautiful sea islands to this day.
There is, however, a bit of controversy surrounding the origin of the bottle trees. Some believe that the practice originated the Congo sometime in the 9th century, and others follow it back as far as 1600 B.C. to the Egyptians.
But historians do agree that bottle trees came to the south from Africa during the slave trading decades.
Though the superstition has been lost quite a bit over the years, the practice is actually rising in popularity throughout the United States as a popular garden decoration.
Yes, they do look pretty in the garden. But, they're also another tradition that helps keep Beaufort SC's storied cultural past alive and thriving. You can make your own, or you can see them for sale today at roadside stands particularly on Lady's Island and St. Helena Island.
Beaufort SC is a place where the past and present walk hand in hand every day.
Put a bottle tree in your garden. You'll be happy you did.
They're beautiful, and they might also just help keep you safe from evil spirits, too.