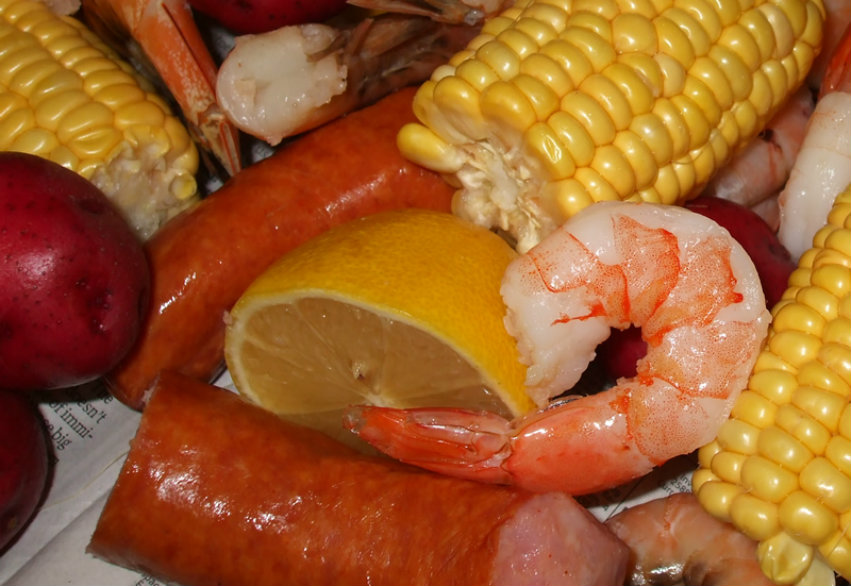 One of the special things about living in our part of the south is our food. For centuries, our dishes have combined the local seafood from our local Beaufort SC waters with the fresh produce from our local farms and home gardens.
In the past, locals have worked with what has been available to them. This includes what's been grown in local soil along with fish, shrimp, oysters and crabs. All have played their parts over the centuries in developing our local cuisine.
While we enjoy a full menu of tasty foods here in Beaufort SC, we chose a few of them to show you here.
If you're hungry, we certainly apologize, and we suggest you get to Beaufort SC as soon as you can.
Shrimp & Grits
Shrimp & grits is a simple meal that was traditionally a breakfast dish. Many prefer it as a lunch or dinner dish today. It was invented by local fishermen as an easy-to-get seasonal dish of shrimp cooked in bacon grease served over creamy grits. The kitchens in many of our homes here in Beaufort know how to make it, and it's found at several of our local restaurants as well.
Fried Green Tomatoes
Our sea islands once grew cotton, indigo and rice to supply to the rest of the country and the world. In the 20th century, agriculture on our sea islands shifted to tomatoes and at one time were a major supplier to the rest of the U.S.
Again, working with what locals had at their disposal, a dish of fried green tomatoes is simply made from unripe (green) tomatoes coated with cornmeal and fried. While fried green tomatoes have traditionally been a side dish, they are sometimes used in main dishes. You can find them at some of our local restaurants.
Frogmore Stew
Frogmore Stew, also known as Beaufort Boil or Lowcountry Boil is one of the most popular dishes here in Beaufort SC.
Commonly called 'everything you love in one pot', the meal is quickly and easily cooked with a variety of ingredients including shrimp, sausage, corn and potatoes combined together in a large pot.
Again, working with local ingredients on hand, many homemade stews have been made over the centuries and this one has stuck around.
Frogmore is name of a community on St. Helena Island, the largest of Beaufort's sea islands. Frogmore Stew was given its name back in the 1960s by one of our local fishermen.
She Crab Soup is a rich soup similar to a chowder or a bisque, made of heavy cream, crab or fish stock and local crab meat. It's very popular along the coast from Charleston, SC to Savannah, GA and will quickly become one of your favorites.
The soup is named after the female crab, because its eggs (roe) are a key ingredient and it can be found at many of our local Beaufort SC restaurants. Creamy and crabby, it's definitely a dish that goes hand-in-hand with living in the Lowcountry.
This special dish is available during the summertime here in Beaufort SC when local tomatoes are harvested.It's made with a combination of tomatoes, Vidalia onions and fresh herbs all covered with a topping made of a mix of mayonnaise and grated cheeses.
A sweet version uses buttered and sugared green tomatoes, with a recipe dating at least as far back as 1877. The taste of it has been compared to that of green apple pie/
Served either hot or cold, it's a local favorite and will quickly take over your taste buds and become something you look forward to each year, just like many of our locals already do.
These are just a few of the things we get to enjoy around Beaufort SC, but there are many other foods here in the Lowcountry that will help you understand just why you decided to make it your home.
The list includes boiled peanuts, pimento cheese, shrimp burgers, crab cakes, oysters and, of course, sweet tea.